Many Volunteers worked hard on this year's annual Greens Sale.  It was a success!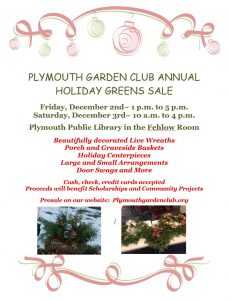 ---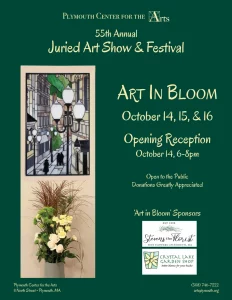 These are some of the creative designs by Plymouth Garden Club members at the annual Art in Bloom, held in the Plymouth Center for the Arts.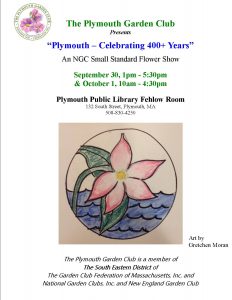 DIVISION I – Horticulture
"Plymouth's Bountiful Land"
DIVISION II – Design
"Our Heritage Inspires Our Designs"
CONGRATULATIONS to all our Club Members who participated in our
successful "Plymouth – Celebrating 400+ Years" Flower Show.
It is a beautiful show, everyone who saw it Friday loved it. The 6 GCFM
accredited judges were all very impressed with and very complimentary of
our show. They were pleased with the number of specimens and quality of the
104 Horticulture exhibits. There were many blue ribbons awarded.
Each section of Horticulture offered a top Horticulture award as below:
Horticulture Award of Merit:
Section A: Susan Fessenden for her Dragon Wing Red Begonia
Section B: Paula Butterfield for her Montauk Daisy
Section C: Gail Conner for her Begonia Escargot
Section D: Marge Galletta for her Dahlia 'Rip City'
Section G: Geri Williams for her Poblano Pepper
Arboreal Award: Jean Dobachesky for her Umbrella Pine
Growers Choice Award: Linda O'Neil for her Red Mezoo plant
The Award of Horticultural Excellence (Best exhibit in all of Horticulture) was
awarded to Becky Freedman for her Herb Planter Dish.
In Design Classes the following are the awards:
Class 1: "Town Brook Running Free"
1 st :Nancy Carafoli also Designers Choice and Best in Show ribbons
2 nd : Geri Williams
3 rd : Colleen Costa
HM: Jean Dobachesky
Class 2: "The Ocean's Moods and Colors Inspire"
1 st : Marge Galletta
2 nd (90+): Judy MacDonald and the Club Betty Award
3 rd : Gail Conner
HM: Katherine Angley
Class 3: "Plymouth Beach is a Natural Gem"
1 st : Pat Parker
2 nd : Natalie Caramello
3 rd : Liz Hester
HM: Servane Rogers
Class 4: "Thanksgiving Traditions"
1 st : Patty O'Brien
2 nd : Crystal Payne and the Club Jini Award
3 rd : Jeanne Burnell
HM: Linda O'Neill
---
---
June Luncheon – 2022
New Officers were inducted during the Annual June Luncheon, at the Plymouth Yacht Club

June Luncheon – 2021
The Awakening by Kevinette Considine
May – 2021
The Club was thoroughly entertained  by Mike Paduch, owner of Crystal Lake Nursery in Plymouth. He demonstrated Fabulous Container Gardens.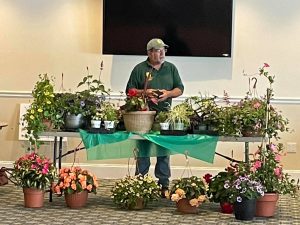 April – 2021
Zoom meeting with Ellie Gilbert – Ellie presented a wonderful slide show on the development of her gardens.  She has planted in such a way as to have colors change through out the season.  In June, the Club was invited to tour her gardens.
---
September – 2020
The Covid-19 Pandemic changed our lives as we've known it. New lingo includes social distancing, masks, PPEs, quarantine, flatten the curve, contact tracing, ventilators/respirators, virtual/Zoom interactions, toilet paper importance, working/learning from home and so much more.
How exciting to finally have our first in-person meeting! Who would have thought it would be outside at the American Legion overlooking a lovely pond. We had our…
ANNUAL INSTALLATION OF NEW OFFICERS
and AWARDS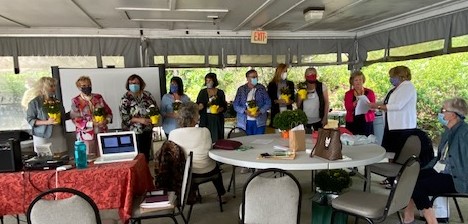 CO-PRESIDENTS: Rebecca Freer Freedman, Patricia Parker FIRST VP: Coleen Costa 2ND VP: Janet Voyer RECORDING SECRETARY: Paula Butterfield CORRESPONDIING SECRETARY: Linda Berthold TREASURER: Rose Cain ASST TREASURER: Marie Young AUDITOR: Kate Angley NOMINATING CHAIR: Liz Hester
and… CAROLE GUDRUN
Master Horticulturist
our interesting and informative speaker came to us via the Tidmarsh Wildlife Sanctuary and Manomet Center for Conservation Sciences (formerly Manomet Bird Observatory). Carole spoke to us about plants, especially native plants, that can be used to enhance our ecological systems. The co-dependency of plants, birds, insects and animals truly impact our human life. There is much each of us can do to provide thriving environments for all.  A tidbit of trivia:  the name Manomet is a native American word that means portage path.

---