In addition to the Plant Sale, there will also be a Bake Sale Table and Attic Treasures!!


---
Books and Blossoms
Thursday, September 16, 10:00am — 6:00pm
Friday-Saturday, September 17, 18, 10:00am — 5:30pm
Plymouth Public Library
Main Branch (Fehlow Room)
South Street
In the Fehlow Room, grab a sheet which lists book titles. Walk around the room to observe all of the table settings designed by PGC members.   See if you can guess the table setting with the book it matches!
PGC members, contact Colleen Costa to participate or for more information.
---
PGC September 2021 Flower Show
Celebrating Plymouth–400 Years
POSTPONED
---
June Tidmarsh Walk
June Luncheon – 2021
The Awakening by Kevinette Considine
May – 2021
The Club was thoroughly entertained  by Mike Paduch, owner of Crystal Lake Nursery in Plymouth. He demonstrated Fabulous Container Gardens.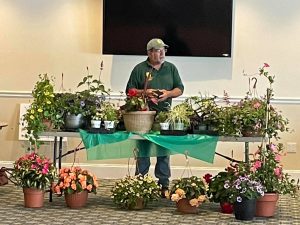 April – 2021
Zoom meeting with Ellie Gilbert – Ellie presented a wonderful slide show on the development of her gardens.  She has planted in such a way as to have colors change through out the season.  In June, the Club was invited to tour her gardens.
September – 2020
David Gould, Director of Plymouth's Marine and Environmental Affairs
Guided Walk Along Town Brook Restoration Project.
Interested members of PGC met with David at the Plimoth Grist Mill. We walked with him up the restoration river path.  He spoke to us about this project at our February meeting.  The walk was about an hour and a half…we're didn't rush…just enjoyed all the sights, improvements  and information. David is a town employee and can not accept gratuities.  However,  we, the walkers, made a donation to The Friends of the Plymouth Pound in his name. That is the same organization/charity that PGC donated to when he was our presenter. We were so lucky to have such a beautiful day for this event!
---
September – 2020
The Covid-19 Pandemic changed our lives as we've known it. New lingo includes social distancing, masks, PPEs, quarantine, flatten the curve, contact tracing, ventilators/respirators, virtual/Zoom interactions, toilet paper importance, working/learning from home and so much more.
How exciting to finally have our first in-person meeting! Who would have thought it would be outside at the American Legion overlooking a lovely pond. We had our…
ANNUAL INSTALLATION OF NEW OFFICERS
and AWARDS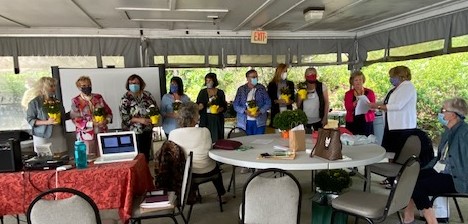 CO-PRESIDENTS: Rebecca Freer Freedman, Patricia Parker FIRST VP: Coleen Costa 2ND VP: Janet Voyer RECORDING SECRETARY: Paula Butterfield CORRESPONDIING SECRETARY: Linda Berthold TREASURER: Rose Cain ASST TREASURER: Marie Young AUDITOR: Kate Angley NOMINATING CHAIR: Liz Hester
and… CAROLE GUDRUN
Master Horticulturist
our interesting and informative speaker came to us via the Tidmarsh Wildlife Sanctuary and Manomet Center for Conservation Sciences (formerly Manomet Bird Observatory). Carole spoke to us about plants, especially native plants, that can be used to enhance our ecological systems. The co-dependency of plants, birds, insects and animals truly impact our human life. There is much each of us can do to provide thriving environments for all.  A tidbit of trivia:  the name Manomet is a native American word that means portage path.

---